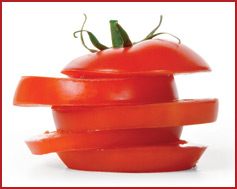 From our seeding date right to our last harvest of the season, our company is "Keeping it Green" A program that Coppola Farms has developed over the past few years. Our company recycles, reduces, and reuses, any product that it can in order to keep it earth friendly.
Our GREENHOUSE COMPLEX operates with in Integrated Pest Management System, which means that we attack insects with other insects, instead of using harmful pesticides that have the risk of contaminating our produce and eliminating the risk of the pesticides and other chemicals running of into our ground water.
We also have put in place a WATER RECYCLING AND FILTERATION SYSTEM. This gives us the capability of conserving and recycling over fifty percent of our water compared to field grown crops. With this system in place we conserve water and sterilize all bacteria or any harmful chemicals that could be in play minimizing the risk of it running into our waterways.
ENERGEY CONSERVATION CURTAINS are also implemented in our greenhouses. This allows us to conserve on the amount of pollution let of into the air and conserving and managing the amount of wasted energy.
RECYCLABLE PACKAGING is also another policy that we have in our facility. Because we have to provide our customers with transported product, packing our produce is very important. What also is important to us is that we use recycled cardboard for our cartons and biodegradable material for packaging. Reusing materials saving energy and eliminating waste "Keeps it Green".